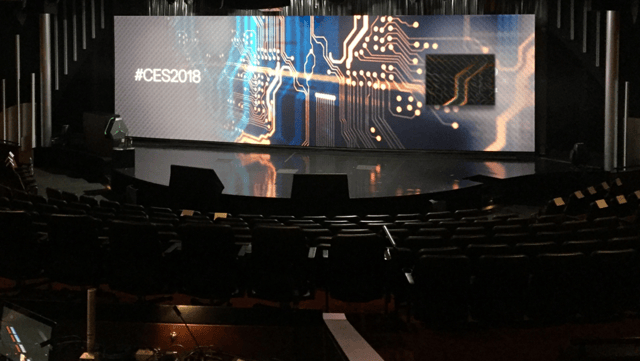 The world's largest companies stream live events to connect their customers with their brands. There are many examples of this, every year, at CES.

The reasons are simple. As TJ McCue writes in Forbes, video drives purchase behavior and creates stronger customer engagement. [1]
With so much at stake, busy communication professionals want to know what differentiates us in the market to understand our value beyond in-house a/v options, who are usually only providing streaming encoders to be managed by the local tech event day, instead of an entire managed solution as the Webcast Engineer or Technical Producer for the Web.

To do this, we've created a checklist of overlooked details when producing live webcasts, managed as part of our process, that separates us from other options.
Here's one from the list…

1. Production Details for Live Webcasts
Most live webcasts are a broadcast of a live event. Platforms like YouTube and Facebook Live make it easy for anybody with an encoder to stream live, but there are production details related to the live event, that, if not accounted for, could have a negative impact on your webcast and your brand.
Let's look at a couple real case scenarios...

You're webcasting a Press Release for a new product or service. You've got the event to manage, plus a million other responsibilities not even related to the Press Release.

To keep the budget under control, you have the crew load into the venue at midnight for rehearsal at 9a, for a 1p start time. Before rehearsal starts, the Video Engineer realizes he or she doesn't cameras in his or her mix, because it's not part of what's going to screens in the room.
1a. Video to Screen vs. Video to Web
For webcasting smaller events at CES like Press Releases, cameras might not be part of the video mix to screens but will be obviously need to be included for the video mix to the web.
An experienced Webcast Engineer will communicate with the Event Team during pre-production to have the Video Director create a separate video mix for the webcast, including camera or bring the right gear on-site to mix the video signals separately.

1b. Managing Audio Signals

In another scenario, just before doors are open to house, the Audio Engineer rolls audio to house, but it's copyrighted music. The audio is included as part of the program mix to the Webcast Engineer for the webcast, but it can't be streamed to the web because the royalties for the music haven't been secured.

An inexperienced or unprepared Webcast Engineer might just be taking the program feed to his or her encoders without having complete control over the signals.

Again, an experienced Webcast Engineer will raise their hand in pre-production to determine if broadcast rights have been secured for web transmission, or be prepared with the right equipment to manage the audio going out to web.
Conclusion

Small, but easily overlooked details like these, can derail a production crew on-site, and potentially put your live webcast at risk, especially on a tight production schedule.

Bottom Line: Engage an experienced Technical Partner for your live webcast transmission who follows a process. Avoid those who don't.

As one client put it, given the importance of their event, "Trusting someone inexperienced with streaming our live events would be like dropping off the President at the White House in an Uber."

If you'd like to know more about the overlooked details related to streaming live events for marketing communications, please click the button below to get in touch for a free consultation.



[1] https://www.forbes.com/sites/tjmccue/2017/09/22/top-10-video-marketing-trends-and-statistics-roundup-2017/#5a2a3d8c7103