Source: Cisco VNI Global IP Traffic Forecast, 2014–2019
The Future of Video Communication for the Enterprise
According to the Cisco Visual Networking Index, IP video will account for 80 percent of all IP traffic by 2019. It will take an individual over 5 million years to watch the amount of video that will cross global IP networks each month in 2019. [1]

This growth will not be restricted to consumer video. Increased adoption of advanced video communications in the enterprise segment will cause business IP traffic to grow at a Compound Annual Growth Rate of 20 percent from 2014 to 2019. [2]

As organizations march toward aggressive goals in 2020 and apply advanced communication technology to connect and engage their workforce, let's review briefly, two important components of successful Town Hall Broadcasts for internal communication, in order to maximize the value of this medium.

Two Essential Components: Production

As we hear many times, the medium is the message. Great effort is spent making General Session and Breakout Rooms look and sound fantastic for large events. Applying the same production values, on a smaller scale, can help create a great viewing experience for the online audience.

An enterprise-grade Town Hall Webcast starts with good, clean audio and video sources, steering away from webcams and on-board laptop audio. This will help online attendees, who often gather together in conference rooms to watch webcasts off projector screens, enjoy their viewing experience.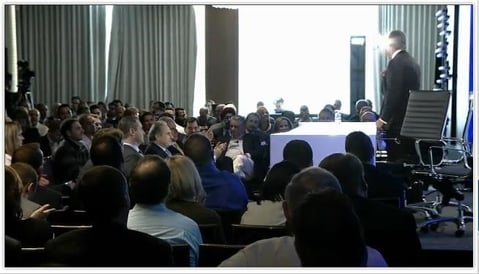 Image of Internet Broadcast - Corporate Events Online, Inc.



A good set design and with balanced lighting and an eye toward the meeting format (Talking Head, Interview-style, Panel Discussion) creates a broadcast that is easy to watch for extended periods of time. Roll-in videos, slides and lower-thirds graphics help tell a story in a way that is engaging for the audience.

Two Essential Components: Promotion

Promoting an internal Town Hall broadcast is different from promoting webcasts used for marketing and lead generation. Instead of generating buzz in the marketplace for a product or service, the broadcast-style Town Hall Webcast offers the opportunity for organizations to sell themselves to themselves.

There are the basic blocking and tackling promotional techniques of sending out emails, calendar invites and posting to the company intranet. But there are other in-production attributes of promotion that include...

Thank the Audience - you can simply say, "...and thank you to our audience online watching worldwide."
Engaging the Audience - let the audience know how (ex, Q&A) and when they can participate
Signage for Viewing Rooms - let online attendees in external offices know when/where they can watch
Mark Your Calendar Slide - add a slide to the deck letting the audience know about the next webcast
Same Time, Same Place - schedule the broadcasts on a consistant basis, ususally after earnings reports

The Right Partner

The right partner will help your organization navigate the constant changes of advanced communication technology, like internet broadcasting, in order to maximize the value of this asset.

They will also be able to provide Event Production and Staging & Rental, in order to produce and promote your broadcasts.

If you'd like to know more about Corporate Events Online and our Communication Technology products and services like Global Internet Broadcasting, Mobile Engagement Applictions, Digital Signage and Digital Communication Strategy, please click the button below to connect with us.


[1] http://www.cisco.com/c/en/us/solutions/service-provider/visual-networking-index-vni/index.html
[2] http://www.cisco.com/c/en/us/solutions/collateral/service-provider/ip-ngn-ip-next-generation-network/white_paper_c11-481360.pdf